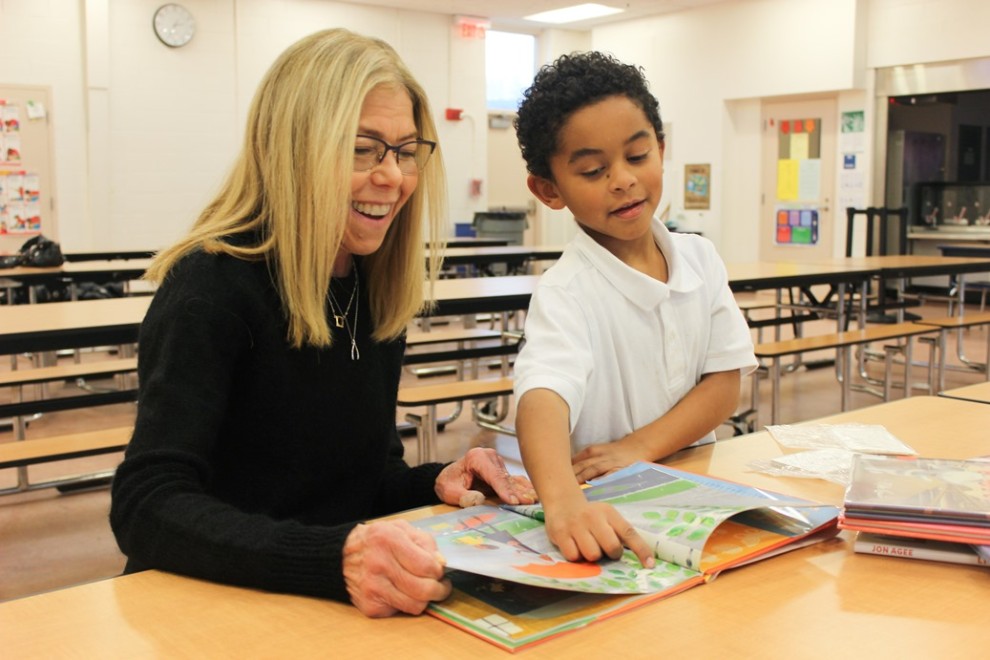 WEST HARTFORD, CONN. (August 9, 2017) – Do you like children and love to read? Children's Reading Partners, an initiative that pairs volunteers with at-risk students to build literacy, is expanding into four new schools this fall and needs your help! The Elementary Express program serves students in kindergarten through fifth grades at 17 schools in Bloomfield, East Hartford, Hartford, Manchester, New Britain and West Hartford. All volunteers are welcome, and English-Spanish bilingual volunteers are especially needed.
Both teachers and volunteers praise the Elementary Express program. "I've had a student involved in this program every year I've been teaching and I've seen some great results," reported a teacher at Alfred E. Burr School in Hartford. "It is so rewarding to know that you can make a difference in the life of a child by helping him improve his reading skills," remarked a volunteer at West Hartford's Wolcott Elementary School. "Seeing a smile on my student's face when he's done with his book really brings warmth to my heart."
It's easy to become a Reading Mentor with Children's Reading Partners. Simply submit your application, attend a training session, and select a 30-minute-per-week time slot to read to an at-risk student. Volunteer times are available during the school day or after school.
Prospective volunteers may attend any of the following training sessions:
Thursday, September 14, at 6:30 p.m., at Congregation Kol Haverim, 1079 Hebron Avenue, Glastonbury
Monday, September 18, at 6:30 p.m., at the Community Services Building, 333 Bloomfield Avenue, West Hartford
Tuesday, September 26, at 10:30 a.m., also at the Community Services Building in West Hartford
To learn more or to sign up for a training session, please contact Children's Reading Partners at read@jewishhartford.org or (860) 236-7323.   
Children's Reading Partners is an initiative of the Jewish Community Relations Council, part of the Jewish Federation of Greater Hartford. It welcomes volunteers of all faiths and serves students of all backgrounds. Since its founding in 1998, Children's Reading Partners has served over 6,000 students with more than 95,000 reading sessions. It has also provided 6,000 new books to students and their classrooms. Major funding is provided by the Jewish Community Foundation of Greater Hartford, SBM Charitable Foundation, the Stocker Foundation, Trifecta Environmental, the Jeffrey P. Ossen Family Foundation, the Kinder Morgan Foundation, People's United Community Foundation, George A. & Grace L. Long Foundation at Bank of America, and the Samuel Roskin Trust at the Hartford Foundation for Public Giving.