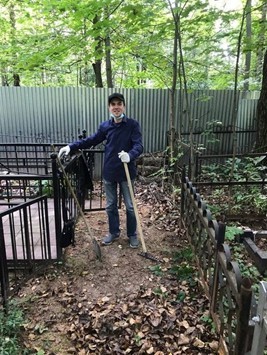 According to Jewish law, caring for the dead is chesed shel emet, "the truest act of kindness." Your contributions to Federation's Annual Campaign help to provide dignity to the Jewish deceased — both in Greater Hartford through Federation's Association of Jewish Cemeteries and around the world via the transformative work of our Israel & Overseas partners. To that end, we are honored to share this heartwarming story from Russia, courtesy of our international partner JDC:
Disabled and bedridden 66-year-old Evgeniya Borisovna Valdberg is one of the 80,000 elderly Jews across the Former Soviet Union who receive support — including homecare and other essential services — from JDC. This past Purim, she was visited by volunteers from JDC's Moscow Volunteer Center, with whom she proceeded to create a special bond. 
One day, Evgeniya had a special request. Given that she is physically unable to visit the cemetery where her parents are buried, she asked if a volunteer could go to the Jewish cemetery home to her beloved parents' plots, clean their headstones, and take pictures to help her remember the site. 
Ishai Sinelnikov, a longtime volunteer and regular participant of "Zikaron" — an annual event where volunteers clean up Jewish cemeteries — immediately rushed to help. After spending more than an hour looking for the plots, Ishai found them, cleaned the graves, and took photos for Evgeniya. When Evgeniya received the photos, she was tremendously moved and comforted knowing that her loved ones were okay and that she had volunteers like Ishai looking out for her and her loved ones.
Click here to learn more about JDC's life-changing work. 
Image courtesy of JDC